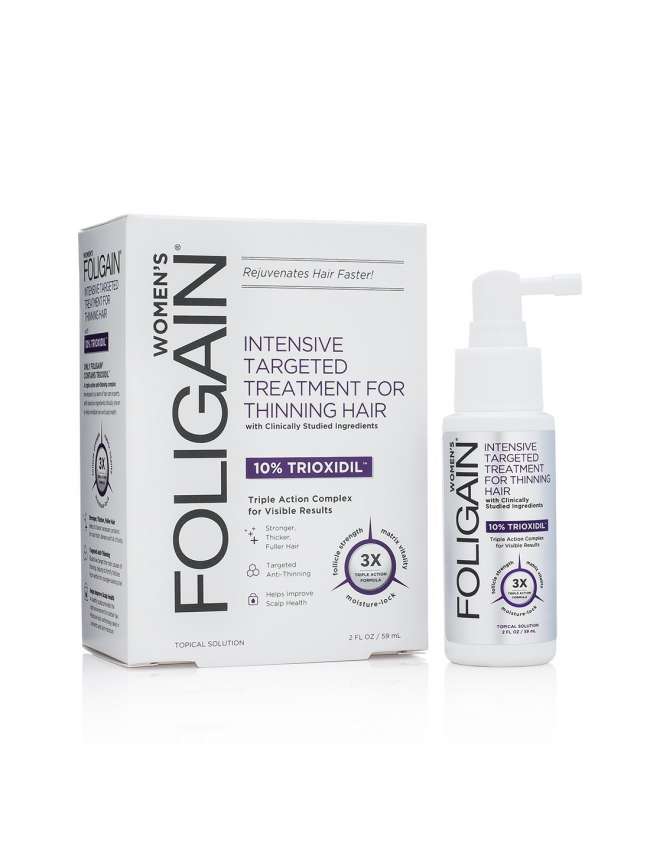 Ver más grande
FOLIGAIN HAIR REGROWTH TREATMENT For Women with 10% Trioxidil 59ml
76-PBCN-KU2G
New product
FOLIGAIN HAIR REGROWTH TREATMENT For Women with 10% Trioxidil
9 Elemento artículos
Advertencia: ¡Últimos artículos en inventario!
Disponible el:
FOLIGAIN HAIR REGROWTH TREATMENT For Women with 10% Trioxidil
Targeted anti-thinning treatment for women Contains 10% Trioxidil:
Triple action complex for visible results Highly effective Minoxidil alternative Ingredients in Trioxidil are clinically shown work faster than Minoxidil Liposphere micro-emulsion technology Supports thicker, fuller, younger-looking hair Moisture-lock seals in nutrients and restores scalp health Clinically studied ingredients Easy-to-apply No parabens, sulfates or phthalates
Triple action
1. Stronger, Thicker, Fuller Hair Helps to boost necessary proteins for hair that's denser and full of body.
2. Targeted Anti-Thinning Bioactivates target the main causes of thinning, helping to fortify follicles from within for younger-looking hair.
3. Helps Improve Scalp Health A healthy scalp provides the right environment for better hair. Moisture-lock technology seals in nutrients and skin moisture to help reduce irritation.
No hay reseñas de clientes en este momento.